End of U.S. Neo-Liberalism and Rise of Neo-Capitalism in China
President Trump Positions on Trade with China
Trump calls postponement 'gesture of good will' as China celebrates anniversary: US agrees to delay tariff hike on some Chinese goods by 2 weeks
Inside Huawei's secret plan to beat American trade war sanctions
Beijing signals flexibility but leaves key products like soybeans untouched – 12 SEPTEMBER 2019
US and China inch toward the point of no return on trade
Trump's disputes with China are well known, given the unfolding consequences for the global economy and diplomatic arena.Billions of dollars in Chinese goods have been slapped with tariffs by the Trump administration, while US authorities accuse China of widespread theft of intellectual property. In recent months, the dispute has spread beyond economic concerns into military and political issues, with unsupported claims by Trump that Beijing was interfering in US elections.
Tweeting on Sunday [September 9, 2018], the president quoted a CNBC report that Ford would no longer be selling its Chinese-build Focus Active in the US, saying: "This is just the beginning. This car can now be BUILT IN THE U.S.A. and Ford will pay no tariffs!"
Ford promptly shot down such a prospect, responding that "it would not be profitable" for the company to build the car in the US because of the relatively low sales volume it has forecast. The vehicle will be built in both Chongqing, China, and Saarlouis, Germany, a Ford spokesman said in an interview on Monday.
Read more on this at:
Ford pushes back after the president's tweet about its decision not to import a new model to the US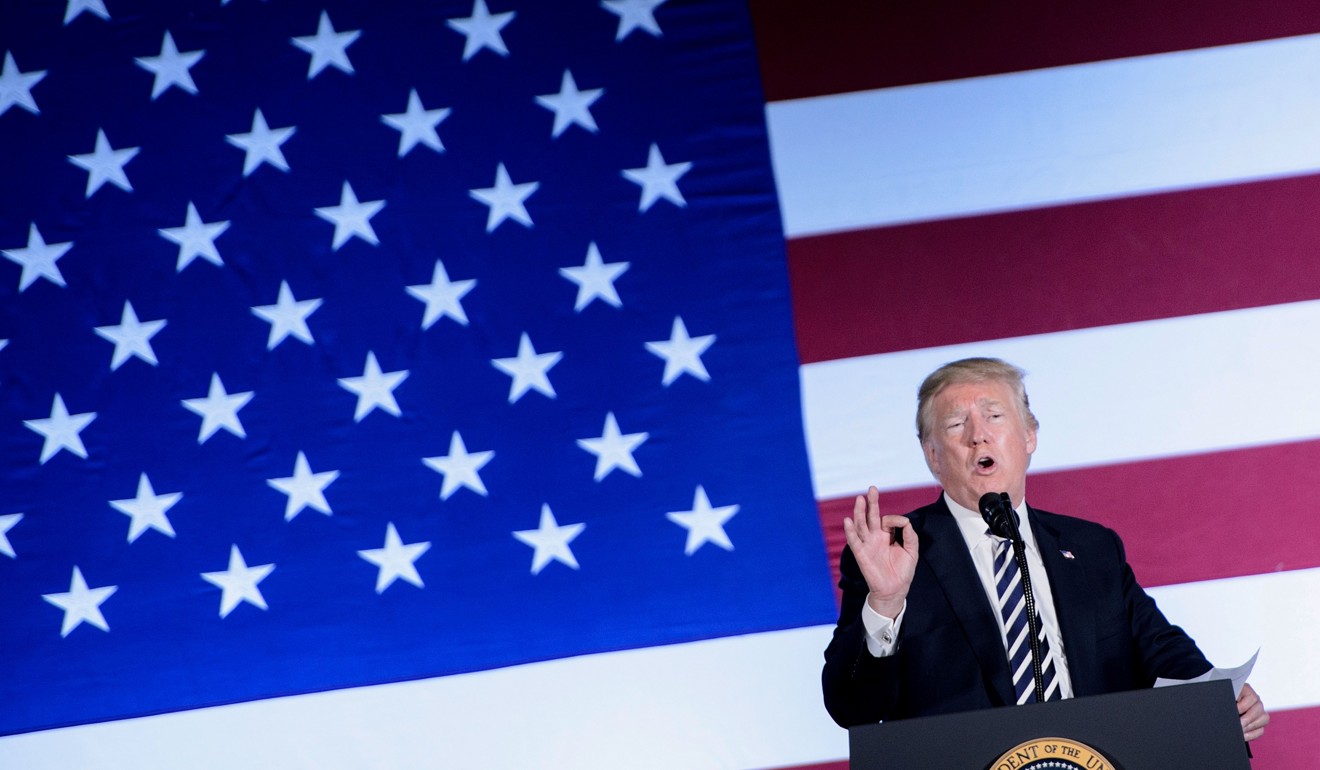 Ford said the decision not to import the Focus Active to the US was made because of the "negative financial impact of new tariffs on vehicles imported from China". The Trump administration levied 25 per cent duties on US$34 billion of Chinese imports, including motor vehicles, in July.
Trademark of President Trump Trade Policy:
Revisited Liberalism and Clash of Trade Ideologies
Is the United States seeking a real trade confrontation with China or it is just searching for better control of the flow of Chinese goods to America and around the World?
Is this the beginning of the end of Liberalism and the Rise of Neo-Protectionism?
Is this the Fight between Commercial Nationalism and Financial Globalism?
Is this the beginning of the end of globalizing liberalism?
Courting and Engaging to Negotiation and Confrontation
On personal professional level, I have participated in the engagement of Chinese officials and executives from Yunnan, Dalian and Guiyang by facilitating their contacts and visits in California.
My involvement with this trend of welcoming Chinese executives and officials seeking the increase of trade and business relationship with Chinese Provinces was in fact a continuation of a strategic policy implemented in California by the Senator Dianne Feinstein in the 1970's and continued until the end of the first decade of the 2000.
"For decades, China had no closer American friend than Dianne Feinstein. As San Francisco mayor in the 1970s, she forged a sister-city relationship with Shanghai, the first between American and Chinese communities. As U.S. senator, she dined with Chinese leaders at Mao Tse-tung's old Beijing residence. And in the 1990s, she championed a trade policy change that opened a floodgate of Western investment into China."
See in the next Dr. Said El Mansour Cherkaoui involvement in the promotion of California in China and his contributions developing California-China trade relationships:
In fact, the return of Hong Kong to China by Great Britain was preceded by an immigration of capital from the South region of Guangdong to the West Coast of the United States and to British Columbia of Canada.
This trends of financial movements toward the United States and Canada was also accompanied by a rise of political figures with Chinese Descent Mayors during the year of 2011.
Gary Faye Locke served as the 10th United States ambassador to China (2011–14). He was previously the 21st Governor of Washington (1997–2005) and served in the Obama administration as United States Secretary of Commerce (2009–11). Locke is the first governor in the continental United States of East Asian descent, and is the only Chinese American ever to have served as a governor of any state. He was also the first Chinese American to serve as the U.S. ambassador to China.
Jean Quan was sworn in as mayor of Oakland January 2011.
Edwin M. Lee, the 43rd Mayor of San Francisco, and was the first Asian American to hold the office, ]and Governors from Chinese descent were elected and worked to further trade and investment relations with China.
Meanwhile, U.S. government granted Beijing permanent normal trade relations in 2000, paving the way for China to join the World Trade Organization. In 2001, U.S.-China trade surged from $5 billion in 1980 to $116 billion in 2000 to $635 billion last year.
Even Japan during the eighties with the Presidency of Reagan did not record such astonishing increase. Since then, this growth has set-off an alarm among the U.S. Lawmakers and aspiring presidential candidates who started decrying China as the new threat following the disappearance of the Soviet Union and the Cold War.
Meanwhile, Senator Diane Feinstein has supported legislation that scrutinize and impose more conditions on Chinese investors to acquire stakes in U.S. firms. During a Senate hearing, Dianne Feinstein joined the ranks of other lawmakers to condemn Beijing for cyberattacks and other digital thefts.
How Did USA and China Arrived to this Level of Non-Return?
At the end of 2018, even Dianne Feinstein considered China as a growing threat, joining a broad array of Trump administration officials who in the past promoted engagement with Beijing as way to insure stability and reforms in China. However, the continuous trade and economic challenges brought by China development, Democrats and Republicans lawmakers are agreeing on a confrontational approach that the Trump administration is translating in new tariffs on the imports of Chinese goods.
Source: U.S. policy toward China shifts from engagement to confrontation
Such reversal of fortune for China among its earlier U.S. politicians has effectively paved the way and reinforce a protectionist approach by Washington, and President Trump could land on softer land and welcoming space where he can adopt a trade policy that he has claimed during his tenure as the owner of Atlantic City's Casinos.
President Trump Trade Strategy: Flirting with Trade War and Testing the Chinese Trade Capacity and Economic Resistance While Making Money from Higher Tariffs
Factories already feeling the bite
Chinese and U.S. officials have failed to agree on when the next round of trade talks will be held and the U.S. rejected China's request to delay new tariffs, sources tell Bloomberg. President Trump's tariffs on $112 billion of Chinese goods went into effect Sunday. Meanwhile, the world's factories are already feeling the effects. Manufacturing purchasing manager indexes for Japan, South Korea and Taiwan were in the red Monday, while India's factory gauge slid to its weakest in more than a year. Figures for the euro-area, U.K. and South Africa have also stalled.
China retaliates to America's New Tariffs, U.S. Stocks Sink
Wall Street tumbles to two-month low as China retaliates to America's new tariffs with fresh taxes of its own, despite president Trump warning them not to. Responding to the U.S.'s latest tariffs, China said it would raise duties on $60 billion of U.S. imports as of June 1, 2019. The delay — on both sides — leaves room for more trade talks, which ended Friday without resolution. Washington earlier raised tariffs on $200 billion of Chinese imports to 25%, from 10%, and has threatened to add duties on up to $300 billion on Chinese products sold to the U.S.. China responded on Monday [5/13/2019] by raising tariffs to 25%, from 5% to 10%.
Dow Jones Industrial Average dropped more than 600 points Monday [5/13/2019], impact from the revival of U.S.-China trade tensions
Trump warns China will be hurt badly
Calculated Optimism while Preparing Counteractive Action
Continuously, the Trump Administration implements tariffs that make America to move a step closer in its attempts to reduce the globalization of the Chinese trade patterns by increasing tariffs to whatever China produces and sell to the United States. President Trump is used to go against all odds to make his points go through all the adversary resistance even if they are well sustained by facts and by confirmations in their doing.
U.S. Media Version on the Evolution of Trade Relation and Escalation from Negotiation to Retaliation
Several industries anchored in the U.S. economy have emigrated to countries characterized by labor-cost and lower price for natural resources in addition to their geographical location closed to regional marketplaces.
The U.S. producers of several commodities have lived through this international industrial metamorphosis that affected among other sectors the steel and aluminum produced by the United States.
Trump Revisited Liberalism and Clash of Trade Ideologies
Beside being US President, Donald Trump is above all a World-Class Businessman who wants to protect the interests of his responsibility toward the industrial foundations that started to be eroded since the period of the multinationalisation and transnationalisation of the productive operations. This redeployment was also identified by the rise of the new industrial countries, designated as the Dragons of Southeast Asia. The U.S. exports followed the same patterns of concentration.
President Trump since the withdrawal from the Paris climate change accords has continuously followed a foreign policy based on the principle of redefining how America deals with external factors in terms of diplomacy and trade as the 2 leading factors and cleavages that can be used alternatively and in complementary fashion in form of threats, sanctions and negotiations.
The Domino Effect of the Tariff Scoring Between the U.S. and China
Following on his speeches during the campaign trail, Trump reaffirmed his opposition and his willingness to reformulate the foundations of the New U.S. trade and financial alliances. The Trump economic advisers considered the opening of the U.S. borders to the import of steel and aluminum among other things by previous Presidents Administrations as the culprit of the decline of the U.S. industrial power caused also by the steel and other commodities produced cheaper by China, the Brazil, South Korea and Vietnam and other Eastern European countries. Therefore, a recovery of the national economic sovereignty became the order of the day for the White House.
Trump has been complaining about the U.S. trade deficit since long before he entered the political arena. As a guest on "The Oprah Winfrey Show" in 1988, for instance, he said of U.S. trade with Japan:
"It's not free trade. If you ever go to Japan right now and try to sell something, forget about it. Just forget about it. It's almost impossible. … They come over here, they sell their cars, their VCRs, they knock the hell out of our companies."
Thirty years later, he's still singing the same tune (albeit about China and smartphones instead of Japan and VCRs, and from the White House rather than on daytime television). For all of the criticism Trump has faced in the past for changing his position on issues, he has been nothing if not consistent in his message on trade.
Following on his speeches during the campaign trail, President Trump reaffirmed his opposition in the following areas:
to reformulate the foundations of the U.S. alliances,
to re-frame all the free trade agreements, his standing or his support for human rights and democracy overseas,
to re caliber other concepts and features of the American internationalism that was framed by the Cold War mentality and the despair of having allies that supply oil first
and the Signing by Trump of the Section 232 Proclamations on Steel and Aluminum Imports.
At Davos, President Trump declared that "America is Open for Business, while using the US large trade deficits as sophisticated instrument to increase pressure on European and Asian's trading partners to make them to open up their markets.
One of his first move as President, Trump went after the Democratic heritage and tried to repudiate what precedent presidential administration from the Democrat Party has established, especially the ecological and the landmark trade agreements and alliances.
In fact, President Trump is not the only one who has seeking confrontation with China on trade and investment with the United States. Even other members of the Trump Administration added their agreements on the imposition of new tariffs as protection to the U.S. economy. In fact, critics have argued for more targeted tariffs, pointing out that China is the main offender.
Trump administration has worked to seal the United States off behind higher tariffs on goods such as aluminum, steel, washing machines and Chinese industrial products.
President Trump is surrounded by the workers of these same industries who see in him the safeguard of their jobs. Better still, the US heavy industry has announced the possible opening and restarting of factories. He also reiterated his contention that the tariffs will not have harmful economic consequences.
In one year Tariffs have rebuilt our Steel Industry – it is booming! We placed a 25% Tariff on "dumped" steel from China & other countries, and we now have a big and growing industry. We had to save Steel for our defense and auto industries, both of which are coming back strong!— Donald J. Trump (@realDonaldTrump) May 14, 2019
On Thursday 03/01/2 2018, President Trump said he used that soup prop to illustrate that the impact is "a fraction of a penny per can. .. Please spare me the idea that this is going to be massively destructive to our economy," Trump said. "All this talk about destruction in the other industries is simply not going to happen."
"We are deadly serious about solving the problem in steel, aluminum and, as the weeks and months go by, other industries," declared Commerce Secretary Wilbur Ross [See more in the video below]. The week before Friday, 03/02/2018, Ross told CNBC the tariffs are "no big deal" and held up a can of soup to make his point that they will have a "trivial" impact on prices.
On Thu, 8 March 2018, Commerce Secretary Wilbur Ross declared that Tariffs will increase competition and the tariffs had to be broad since China is moving steel into the U.S. through other countries, by giving this explanation:
"China has been very clever at trans-shipping product through other countries and dislodging domestic demand in other countries, which causes their producers to dump on us," he said.
China Position in the U.S. Global Trade
During 2018, China is U.S. largest goods trading partner with $659.8 billion in total (two way) goods trade. Goods exports totaled $120.3 billion; goods imports totaled $539.5 billion. The U.S. goods trade deficit with China was $419.2 billion in 2018.
U.S. goods and services trade with China totaled an estimated $737.1 billion in 2018. Exports were $179.3 billion; imports were $557.9 billion. The U.S. goods and services trade deficit with China was $378.6 billion in 2018.
Trade in services with China (exports and imports) totaled an estimated $77.3 billion in 2018. Services exports were $58.9 billion; services imports were $18.4 billion. The U.S. services trade surplus with China was $40.5 billion in 2018.
According to the Department of Commerce, U.S. exports of Goods and Services to China supported an estimated 911,000 jobs in 2015 (latest data available) (601,000 supported by goods exports and 309,000 supported by services exports).
U.S. – China Trade Negotiations
After Trump's initial comments on tariffs, Chinese officials urged the U.S. to support global trade.
The trade war between the United States and Beijing rose slightly in September 2019 when Trump imposed a 10% tariff on Chinese goods worth $ 200 billion. China reacted by raising $ 60 billion in taxes on various US products. The United States will raise the rate from 10% to 25% in January, but delay implementation with the opening of new negotiations. In the past, both countries applied the definitions of their products at about $ 50 billion.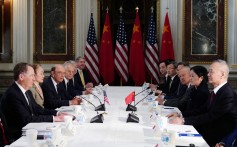 Beijing is expected to announce a large purchase of US agricultural and energy products, which will be incorporated into the overall agreement
Key structural issues yet to be resolved include forced technology transfers, cybertheft and market access
Updated: Friday, 21 Feb, 2019
New round of trade talks begin with eye toward reaching framework for deal
'Like pulling teeth': China, US far apart on structural changes by Beijing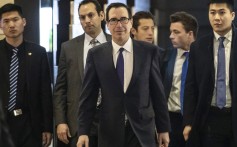 ---
---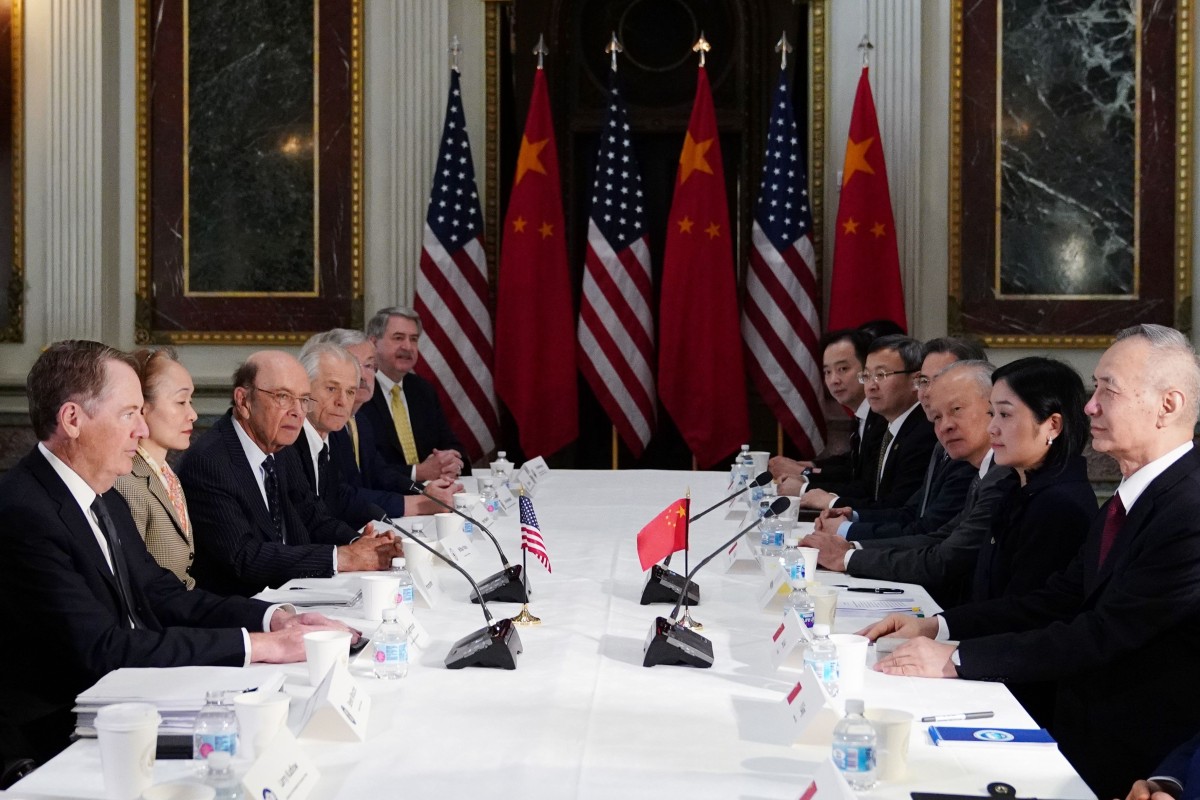 US Trade Representative Robert Lighthizer (left) and Chinese Vice-Premier Liu He (right) and their delegations resume trade talks at the Eisenhower Executive Office Building in Washington on Thursday [Feb. ]. Photo: AFP
China and the United States began a fresh round of high-level talks in Washington on Thursday, amid reports of progress in their bid to nail down a meaningful deal ahead of the deadline for an agreement to end their trade war.
Time is running short toward March 1 when the US has threatened to raise tariffs on US$200 billion of Chinese products from 10 per cent to 25 per cent.
On Tuesday, however, US President Donald Trump suggested that he might extend the March 1 deadline, saying the talks were going "very well" and "the date is not a magical date".
Working-level negotiations began on Tuesday, with cabinet and ministry officials joining the talks for two days beginning on Thursday. The previous round of negotiations took place last week in Beijing.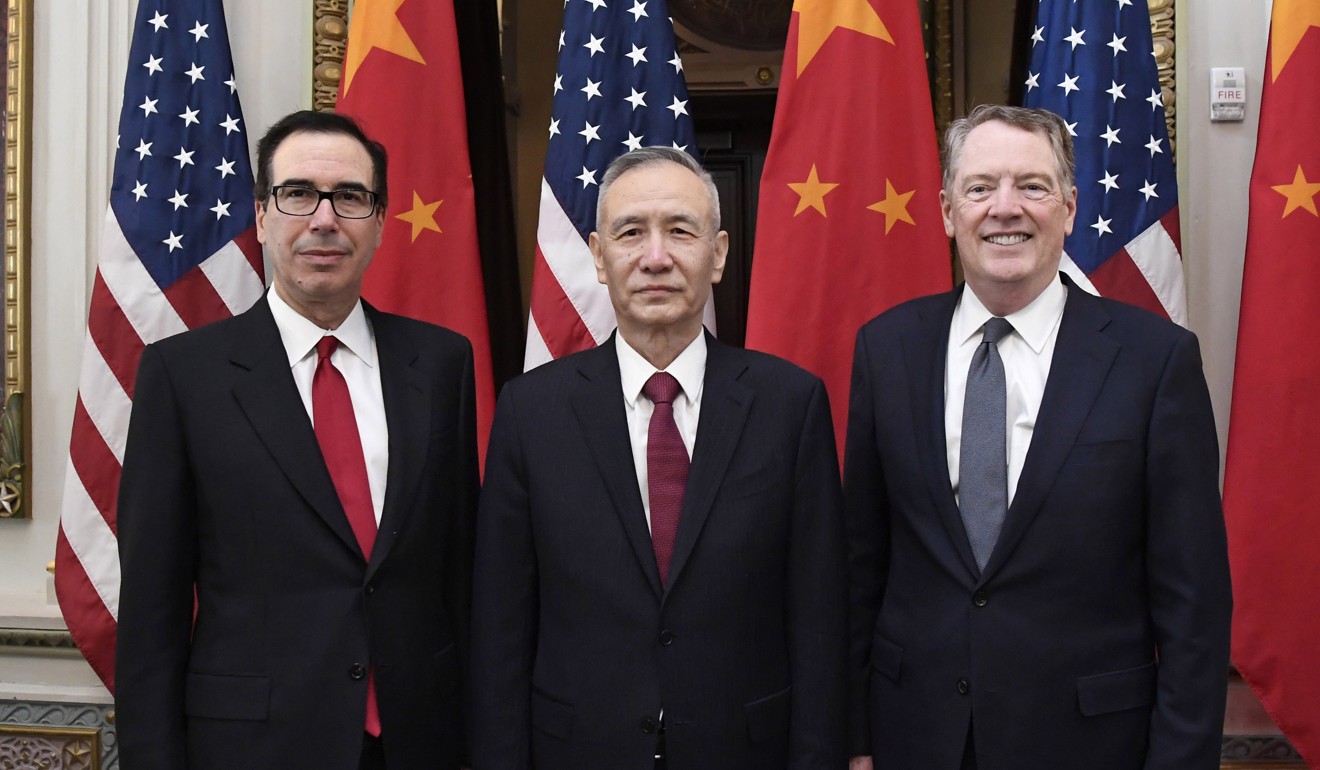 Chinese Vice-Premier Liu He is flanked by US Treasury Secretary Steven Mnuchin (left) and US Trade Representative Robert Lighthizer as trade talks resume on Friday in Washington. Photo: Xinhua
The Chinese delegation is led by Vice-Premier Liu He and includes Yi Gang, governor of the People's Bank of China; Wang Shouwen, vice-minister of commerce; and Liao Min, vice-minister of finance. Vice-Premier Liu carries an additional title: special envoy for Xi. It marks the second time he has come to the US as special envoy for trade talks. The last he carried the special envoy title was in May 2018.
On the US side, the talks are chaired by Lighthizer and Treasury Secretary Steven Mnuchin.
U.S. Trade Deficit Cause of Confrontation with China
U.S. Trade in Goods with China
China's trade balance shifted to a USD 32.67 billion surplus in March 2019 from a USD 5.79 billion deficit in the same month a year earlier and easily beating market estimates of a USD 7.05 billion surplus, revised figures showed on April 23rd. Exports soared 14.2 percent, while imports declined 7.6 percent. Considering the first three months of the year, the trade surplus widened sharply to USD 76.33 billion from USD 44.73 billion in the same period the prior year. Balance of Trade in China averaged 96.83 USD HML from 1981 until 2019, reaching an all time high of 612.86 USD HML in October of 2015 and a record low of -320.02 USD HML in February of 2012.
U.S.Exports to China
China was the United States' 3rd largest goods export market in 2018.
U.S. goods exports to China in 2018 were $120.3 billion, down 7.4% ($9.6 billion) from 2017 but up 72.6% from 2008. U.S. exports to China are up 527% from 2001 (pre-WTO accession). U.S. exports to China account for 7.2% of overall U.S. exports in 2018.
The top export categories (2-digit HS) in 2018 were: aircraft ($18 billion), machinery ($14 billion), electrical machinery ($13 billion), optical and medical instruments ($9.8 billion), and vehicles ($9.4 billion).
U.S. total exports of agricultural products to China totaled $9.3 billion in 2018, our 4th largest agricultural export market. Leading domestic export categories include: soybeans ($3.1 billion), cotton ($924 million), hides & skins ($607 million), pork & pork products ($571 million), and coarse grains (ex. corn) ($530 million).
U.S. exports of services to China were an estimated $58.9 billion in 2018, 2.2% ($1.3 billion) more than 2017, and 272% greater than 2008 levels. It was up roughly 997% from 2001 (pre-WTO accession). Leading services exports from the U.S. to China were in the travel, intellectual property (trademark, compute softwarre), and transport sectors.
U.S. Imports from China
China was the United States' largest supplier of goods imports in 2018.
U.S. goods imports from China totaled $539.5 billion in 2018, up 6.7% ($34.0 billion) from 2017, and up 59.7% from 2008. U.S. imports from are up 427% from 2001 (pre-WTO accession). U.S. imports from China account for 21.2% of overall U.S. imports in 2018.
The top import categories (2-digit HS) in 2018 were: electrical machinery ($152 billion), machinery ($117 billion), furniture and bedding ($35 billion), toys and sports equipment ($27 billion), and plastics ($19 billion).
U.S. total imports of agricultural products from China totaled $4.9 billion in 2018, our 3rd largest supplier of agricultural imports. Leading categories include: processed fruit & vegetables ($1.2 billion), fruit & vegetable juices ($393 million), snack foods ($222 million), spices ($167 million), and fresh vegetables ($160 million).
U.S. imports of services from China were an estimated $18.4 billion in 2018, 5.5% ($963 million) more than 2017, and 68.3% greater than 2008 levels. It was up roughly 414% from 2001 (pre-WTO accession). Leading services imports from China to the U.S. were in the transport, travel, and research and development sectors.
Trade Balance with China
The U.S. goods trade deficit with China was $419.2 billion in 2018, a 11.6% increase ($43.6 billion) over 2017.
The United States has a services trade surplus of an estimated $41 billion with China in 2018, up 0.8% from 2017.
Investment in China
U.S. foreign direct investment (FDI) in China (stock) was $107.6 billion in 2017, a 10.6% increase from 2016. U.S. direct investment in China is led by manufacturing, wholesale trade, and finance and insurance.
China's FDI in the United States (stock) was $39.5 billion in 2017, down 2.3% from 2016. China's direct investment in the U.S. is led by manufacturing, real estate, and depository institutions.
Sales of services in China by majority U.S.-owned affiliates were $55.1 billion in 2016 (latest data available), while sales of services in the United States by majority China-owned firms were $8.3 billion.
Source: https://ustr.gov/countries-regions/china-mongolia-taiwan/peoples-republic-china a